Les Vins Rosés Sont Arrivés!
A sure sign that Summer is right around the corner is the arrival of rosé wines from across the globe! Rosado, rosato, rosé, the language doesn't matter, it's the delicious, light pink nectar in the bottle that makes these wines tailor made for the season. We feature rosés from all the corners of La Belle France: Provence, Cabardès, Fronton, Corbierès, Costierès de Nîmes, Côtes du Roussillon, Corse, etc. Be sure to stop by check out our selection; we have plenty 0f chilled bottles on hand, ready to go. We also stock a wide variety of cheeses and charcuterie to complement your wine selection.
2015 Chateau Beaulieu Rosé Coteaux d'Aix-en-Provence  $14.99 An exemplary, traditional Provencal rosé, Chateau Beaulieu is bright and fruit-forward with exotic fruit that reminds one of guava, papaya and white floral aromas on the nose. It has body and structure, yet is fresh on the palate and possesses beautiful minerality. Each varietal (Cabernet Sauvignon, Grenache, Syrah and Cinsault) is vinified separately in stainless steel tanks at low temperatures to preserve its natural characteristics. A versatile wine that pairs beautifully with a wide variety of seafood.
NV Chateau de Campuget Rosé Costieres de Nimes (3L Box)  $27.99
2015 Chateau Grande Cassagne Rosé Costieres de Nimes  $9.99
2015 Chateau de La Clapiere Rosé Cru Classé 'La Violette'  $15.99
Chateau de la Clapiere consists of 53 hectares, in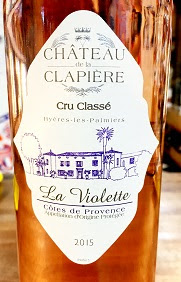 cluding 32 hectares of Cru, located in foothills of the Massive des Maures, at the crossroads of the fertile valleys of Sauvebonne and the Borrels, where the vines flourish among citrus and palm trees in a unique microclimate. The Chateau was designated as a Cru Classé rosé in 1955. The wine is an elegant blend of Grenache, Cinsault and Syrah, that offers an expressive nose brimming with fresh notes of raspberry, cherry, watermelon, and green tea. The palate is firm and focused, with generous acidity. Bright fruit notes are complemented by hints of sandalwood and mineral undertones. Highly recommended.
2015 Chateau Jouclary Cabardes Rosé $11.99
2015 Chateau L'Ermitage  Rosé Costieres de Nimes  $9.99
2015 Domaine de Fontsainte Gris de Gris  Corbieres  $13.99, $30.00 (1.5L)
Domaine de Fontsainte is in the heart of the Corbieres' celebrated 'Golden Crescent' – one of the appellation's most beautiful and beneficent terroirs.  Fontsainte's vineyards, just 295 ft. in altitude, benefit from a pristine environment (far from industrial or urban developments), plus alternating Mediterranean and oceanic influences.
A Rhone-style blend with 70% Grenache Gris and Grenache Noir, and the balance equal parts of Mourvèdre, Carignan, and Cinsault, this fruity and delicious rose offers up aromas and flavors of fresh-picked strawberries and cherries, with tropical fruit accents.
2015 Domaine des Lauribert Vaucluse Rosé 'La Cuvee Lisa'  $9.99
2015 Domaine Le Clos des Lumieres Grenache Rosé Pays d'Oc  $7.99
2015 Domaine Roumagnac Fronton Rosé 'Authentique'  $14.99
The Domaine Roumagnac Rosé Authentique is a blend of 50% Negrette, 30% Syrah, and 20% Cabernet Franc. The Negrette brings its highly aromatic qualities to the wine, as well as its beautiful color; while the Syrah and Cabernet Franc add complexity and spice to the blend. The nose is one of red berry and citrus fruits (red currants and grapefruit), while the palate is rich, persistent and beautifully balanced,
2015 Domaine Sainte-Eugénie Corbières Rosé  $10.99
2015 Domaine Santa Giulietta Rosé Corse  $10.99
2015 Domaine Sorin Rosé 'Terre Amata'  $11.99
2015 Lafage Miraflors Cotes du Roussillon Rosé  $14.99 
2015 Mas Carlot Rosé Costieres de Nimes  $10.99
Constructed around the seventeenth century, this old Provencal Mas was brought back to life by the Blanc family, who purchased the estate in the 60s. Located on the western edge of the Rhone River, in the village of Bellegarde, southeast of the city of Nimes, the vineyards are in the heart of the appellation'scailloux-based soil. In the old Provençal dialect, "Mas" means farm, and Nathalie Blanc-Marès is beautifully managing this 75 hectares farm with the aid of her husband Cyril Marès, owner of the neighboring property Mas des Bressades.
Vibrantly clear and raspberry in color, the 2015 Mas Carlot Costieres de Nimes Rosé (50% Grenache, 40% Syrah and 10% Mourvedre) delivers loads of wild strawberry, cherry, flowers and hints of minerality in a medium-bodied, classically dry, yet textured and rich package. This rosé is made by the saignée method.
2015 Joseph Mellot 'Sincérité' VdP du Val de Loire  $9.99
2015 Chateau La Mascaronne Cotes de Provence 'Quat'saisons'  $17.99
2015 Commanderie de la Bargemone Coteaux d'Aix en Provence Rosé  $14.99
Commanderie de la Bargemone is among the foremost estates of the Coteaux d'Aix  Provence. A benchmark producer of the delicious, dry rosé for which Provence is famous, the Commanderie was founded by Templar knights in the 13th century, and is home to a proud viticulture tradition and more than 160 acres of sustainably grown vineyards.
Offers classic aromas of wild strawberries and red currants, with a light, floral character and a crisp, bone-dry palate.
À Bientôt,
Kelsey & Manuel